What to know about birding on Beaver Island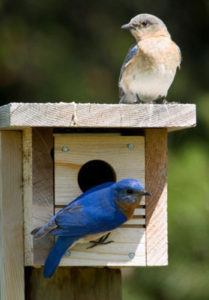 Your destination for all information about beautiful Beaver Island
and how you can enjoy it yourself.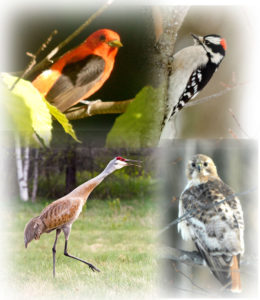 Your destination for Beaver Island Birding Trail site descriptions and our seasonally organized birding checklist.
Your destination for Beaver Island Birding Trail birding ettiquette, conservation, and all things birding on Beaver Island.
Map loading, please wait ...
Use the interactive map above to discover birding sites. The number in a circle indicates the number of sites at that location. Click on the number to zoom in. Numbered squares are sites. Click on the square for more details. Orange squares indicate a trail that you will find marked with orange signs; get out and explore! Grey squares indicate birding from the road sites that you will find marked with white signs. Please respect private property and enjoy from your vehicle.
To download our map click here!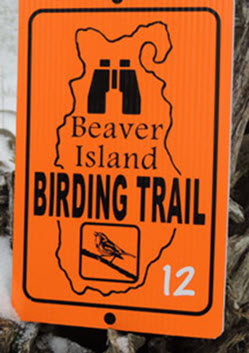 These are examples of the signs you will see on the trail. Orange signs indicate public trails. White signs indicate birding from the road locations.
Recent Sightings
The Beaver Island Birding Trail supports eBird a real-time, online checklist website which has revolutionized the way that the birding community reports and accesses information about birds. Additionally, the BIBT Facebook page is utilized by birders.
click here to learn more about ebird
eBird was launched in 2002 by the Cornell Lab of Ornithology and the National Audubon Society. eBird's goal is to maximize the utility and accessibility of the vast numbers of bird observations made each year by recreational and professional bird watchers. It has amassed one of the largest and fastest growing biodiversity data resources in existence. For example, in March 2013, participants reported more than 33 million bird observations across North America!
The observations of each participant join those of others in an international network of eBird users. eBird then makes these observations available to a global community of educators, land managers, ornithologists, and conservation biologists. In time, these data will become the foundation for a better understanding of bird distribution across the western hemisphere and beyond.
The Beaver Island Birding Trail's goal is to facilitate the collection of information through useful tools such as eBird.org, our smartphone compatible website for easy access, and several other e-initiatives that are currently in development. We welcome all active birders to join in, help build our knowledge base and participate in citizen science on the ground. We can't do it without you!
The Beaver Island Birding Trail was founded in 2014 and was designed for birding all year round!
Warblers on the Water 2023
Individual Partners:
The Beaver Island Birding Trail and associated materials were made possible by the assistance and professional contribution of many talented individuals and organizations. In addition to the listed corporate and conservation partners, a special thanks to the following individuals for making the Beaver Island Birding Trail a reality:
Bob Anderson          Jim Bean          Kay Charter          Bonnie Cull          Dr. Dave Ewert          Dr. James Gillingham
Pam Grassmick          Anthony Greene family          Donna Hardenberg          Eric Hemenway          Peter Igoe
Brian Kelly          Jacque LaFreniere          Doris Larson          Dr. Beth Leuck          Dr. Ed Leuck          Brian Mastenbrook
Ken McDonald          Linda McDonough          Dr. Eric Myers          Seamus Norgaard          Peaine Township
Dr. Nancy Seefelt          St. James Township
Photo credits and thanks:
Dave Brunnelle          Becca Foli          Jeff Kingery          Dr. David Mifsud          Joe Moore          Frank Solle Photography
Jim Stevenson         Dr. Doug Tallamy          Tom Hawkins
Conservation Partners:
Corporate Partners:
Handcrafted by Erin Wiser and bIrobot (the BICS Robotics Team)